The premium quality, energy efficient homes are designed and built by Kaamos Ehitus (Kaamos Construction), a part of Kaamos Group, whose team benefits from over 15 years of experience in home building.
We employ professionally certified engineers and hold Lloyd's Register Quality Assurance certificates ISO 9001-2015 and ISO 14001-2015 as well as licenses pertaining to construction.
Ferro Residencies will be completed in the first quarter of 2019.


Construction related detailed information
Foundations
The apartment building at Raua 59 is built on pile foundation.
Insulated external walls
Exterior walls constitute prefabricated reinforced concrete panels, insulated with styrofoam and finished in line with the particular architectural solution. Exterior walls are covered by clay facade bricks and plaster. Facade design elements are made of aluminum composite plates.
Soundproof internal walls
The walls separating apartments are 200 mm thick prefabricated reinforced concrete panel walls. The nonbearing interior walls in the apartments are metal structure supported light dry walls, filled with wool insulation. The separating walls in storage areas constitute wood structure supported unfinished plywood covered light walls.
Floors and connected roofs
Load-bearing separating ceilings/floors are made of prefabricated reinforced concrete hollow panels, resting on prefabricated reinforced concrete panel walls and beams and steel beams.
Balconies
Most of the apartments feature balconies. The balcony with extensive views is rimmed by a class-and-metal barrier. The balcony floor is PVC coated. Apartments 38, 39, and 40 come with a spacious PVC coated terrace, covered with terrace flooring.
Suitable roof for the climate
The roof is covered by SBS coating which is a cover well-suited to Estonia's climate. Rainwater is directed to the stormwater drainage system through interior drainage.
Thermally insulated windows

Windows with thermal insulation. The so called German windows, triple glazed wood frame windows that open inward, retain heat well and muffle noise.

Economical heating system
Economic and convenient heating system. The apartment building is connected to Tallinna Küte district heating system network. A comfortable interior climate is ensured by warm water based floor heating which can be adjusted individually for each room by way of a wall mounted thermostat. Rooms of general use feature both warm water based floor heating and radiator heating.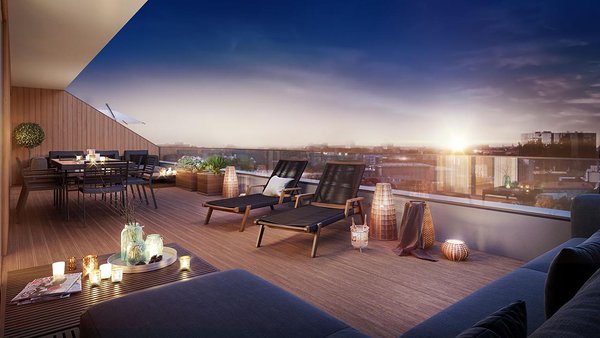 Forced-air ventilation

Forced ventilation is planned for the building, facilitated by a central installation of great energy efficiency. The ventilation device is located in a ventilation room, specially designed for the purpose. The apartments are equipped with available connections for a stove hood; the outflowing air is directed to the roof.
Water and sewerage
Warm water is produced based on district heating in the building's heating room. Remotely read warm and cold water meters are located behind the apartments' suspended ceilings in the hallway, bathroom, and utility room.
Electricity
All rooms are equipped with electric outlets, switches, and floor heating regulators. Recessed lighting is installed in the suspended ceilings in the hallway and bathrooms. Electricity meters are located in the meter switchboard.
Low-current
All rooms are equipped with data communication and TV outlets. The apartments facilitate the installation of security alarm systems to which the apartment's storage area can be attached. To ensure data communication, all of the apartments are equipped with the CAT6 data cable from the building's data communication distribution board.
Energy saving
Solar panels that produce electricity at 11kW are installed on the building's roof; accessory expenses of future residents are reduced by the electricity produced by these panels.
Energy-performance label
The apartment building is classified under energy efficiency class B.
Construction warranty
Instead of the traditional two-year warranty, Kaamos Ehitus (Kaamos Construction) provides Ferro Residencies with a three-year warranty.

Accessibility

Staircases
Stories are connected by reinforced concrete stairs covered with ceramic tiles. The steel staircase rails feature a wooden handrail.
Lift
All floors are connected by a conveniently used smart elevator.
Safe doors
The apartments feature smooth veneer doors and veneer covered wood front doors with enhanced sound proof properties. The building's front doors feature heightened security features and are equipped with a touch key operated locking system.
Safe door phone
The building's front door is equipped with a video door phone system panel connected to the video door phones in the apartments.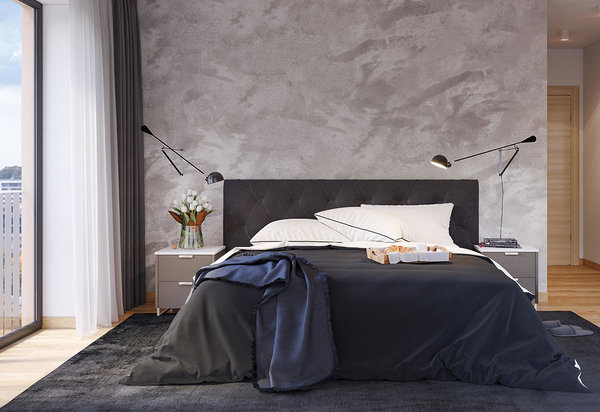 Practical storage room
A storage facility is available for purchase with each apartment.
Convenient parking
A parking space can be purchased in the underground closed or aboveground open parking lot. Access to the parking spots is restricted by a remote control opened barrier and, in the underground parking lot, by a remote control opened garage door.
Barriers
Wooden and metal barriers are installed on the registered immovable.
Playground
There is a private playground in the yard.

Finish

Cosy finish
Elegantly minimalistic finishing. In cooperation with Architekt11 interior architects Tiiu Saal and Hannelore Kääramees three interior finishing packages were created. Living room floors are covered by single-strip oak parquet, hallway and utility room floors are coated with ceramic tile. The walls in residential rooms are painted; the accent wall in the master bedroom is painted using a decorating paint. To hide communication and power lines, dry wall suspended ceilings, painted white, are installed in sanitary rooms and partially in residential rooms.
Bathroom and toilet
Bathroom walls and floors are tiled with ceramic tile. The bathrooms are equipped with a sink, a wall mounted toilet bowl, and a stone bath with a mixer, or a clear glass shower corner. A washing machine can be installed in each apartment either in the bathroom or the utility room. Larger apartments include two restrooms.